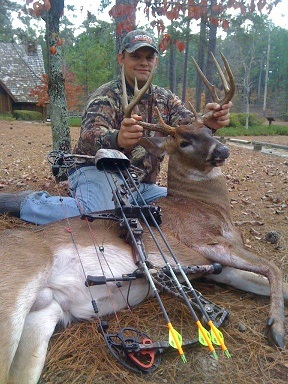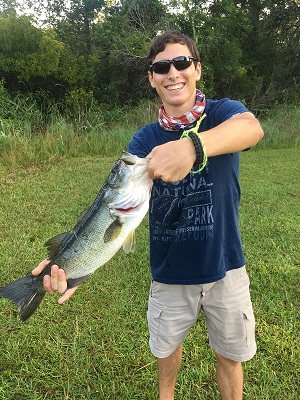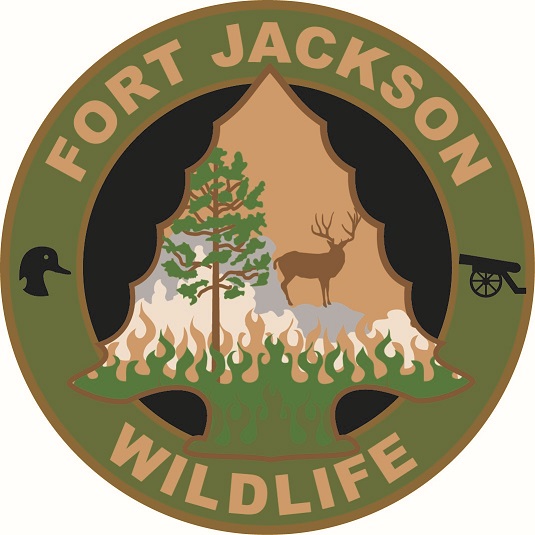 Welcome to the Fort Jackson
iSportsman System
2021 Fort Jackson Turkey Season
The 2021 Fort Jackson turkey season will take place from 1 April though 30 April. Click the link below for a tutorial on the Turkey Checkin and reservation system. Reminder: by regulation, a hunter can only check in to or be checked into one hunt area at a time.
Check In and Reservation Tutorial
The dam / roadway at Cobb's Pond has failed. Cobb's Pond is now closed for all recreational use, and a portion of Salem Road is impassable.
Hunters and Anglers
The Hunter/Angler safety briefing is now online here at iSportsman! This training is required annually, and you must have a copy of your current certificate on your person at all times while hunting, scouting, or fishing on Fort Jackson. Click the link below to start your briefing.
2020 Online Hunter/Angler Safety Briefing
*The information below is current as of 8 December 2020*
ATTENTION: Hunters, Anglers, and Cyclists
As of 30 March 2020: Hunting, fishing and cycling activities are being allowed to continue on Fort Jackson for only those individuals who have installation access considering the restrictions listed below. Please read Installation Access Restrictions below.
While conducting these recreation activities, Social Distancing practices shall be implemented, and no groups of more than 3 individuals.
ATTENTION: INSTALLATION ACCESS RESTRICTIONS
In response to the COVID-19 pandemic:
As of 9 December 2020, Retirees have installation access every day of the week. The Wednesday and Thursday restrictions that were in place for retirees have been lifted.
Beginning 8 June 2020, Non-affiliated cyclists have access to Fort Jackson except on Wednesdays and Thursdays.
MWR's Marion Street Station is open Mondays, Tuesdays, Thursdays and Fridays 10:00 to 5:00, and Saturdays 9:00-3:00. They are closed Wednesdays and Sundays.
In addition to this website, please monitor the official Fort Jackson social media sites (ex. Facebook) for changes to access restrictions.
ATTENTION: GATE CLOSURE
Gate 5 (Leesburg Rd) will close at 1800 hours on 18 March and will remain closed until further notice.
Important Information about the National Defense Authorization Act of 2019
Pursuant to the passage of the National Defense Authorization Act of 2019 certain MWR facilities, commissary, and exchange services were made available to more veterans and their caregivers starting January 1, 2020. These services do not include access to hunting and fishing activities on Fort Jackson.
Attention Hunters, Anglers and Cyclists:
Starting June 2019 if you fail to check-out at the appropriate time for your activity your account will be placed on administrative hold. This means you will not be able to sign in for any activity until you have made contact with conservation law enforcement.
Hunters and Anglers - As of 1 February 2018, the Fort Jackson iSportsman system is where you purchase permits, check training area status, check into and out of areas and ponds, and report your catch or harvest. Permits will no longer be sold at MWR's Marion Street Station. In addition, you will no longer have to sign-in and sign-out at the Big Game Check Station (Heise's Pond). Only Big Game hunters who successfully harvest a deer or turkey will be required to check their harvest in at the Big Game Check Station.
Cyclist and Runners wishing to ride or run the Range-Area Cycling/Running Routes must register, obtain a Cycling/Running Permit, and check-in and out using iSportsman. See Cycling under Activities above for more information.
Fort Jackson iSportsman is a web-based system accessible by computer or smart-phone. Fort Jackson iSportsman is also accessible by telephone to check the availability of areas and ponds, and to check-in and check-out. Account creation and permit sales cannot be completed by telephone. To check-in and check-out by phone, call 844-222-9333. Please keep your mobile phones with you while checked in for all activities, so that you can receive any important text messages sent from iSportsman.

Click here to learn how iSportsman works
Who is authorized to hunt and fish on Fort Jackson?
Fort Jackson fishing and hunting permit sales and access is restricted to the following groups of individuals: Active duty personnel, military retirees, current and retired DOD civilian employees, reservists, National Guard, dependents of the above, DOD contractor employees, technical representatives, and employees of military banking facilities working on Fort Jackson as determined by the Installation Commander. The general public may only participate as a "Guest" of an above authorized person, or participate in specific hunting and fishing events or programs (ex. managed hunts) as organized and announced by FMWR.
Guidance and Regulations: With the implementation of iSportsman there will be numerous changes to the Fort Jackson hunting and fishing regulations and operational procedures. It is imperative that users develop a working knowledge of the Fort Jackson hunting and fishing regulation (FJ Reg 28-4 ) and guidance found on this web site.
WARNING
Because of live-fire training, both past and present, it is possible to encounter unexploded ordnance (UXO) while recreating on Fort Jackson. It is your responsibility to be aware of your surroundings, stay within your assigned areas, avoid off-limits areas, and know the procedures in the event you discover UXO. Know the 3Rs of UXO safety listed below. A good rule to follow is: If you didn't drop it, don't pick it up! To report UXO, call Range Operations at 751-7171.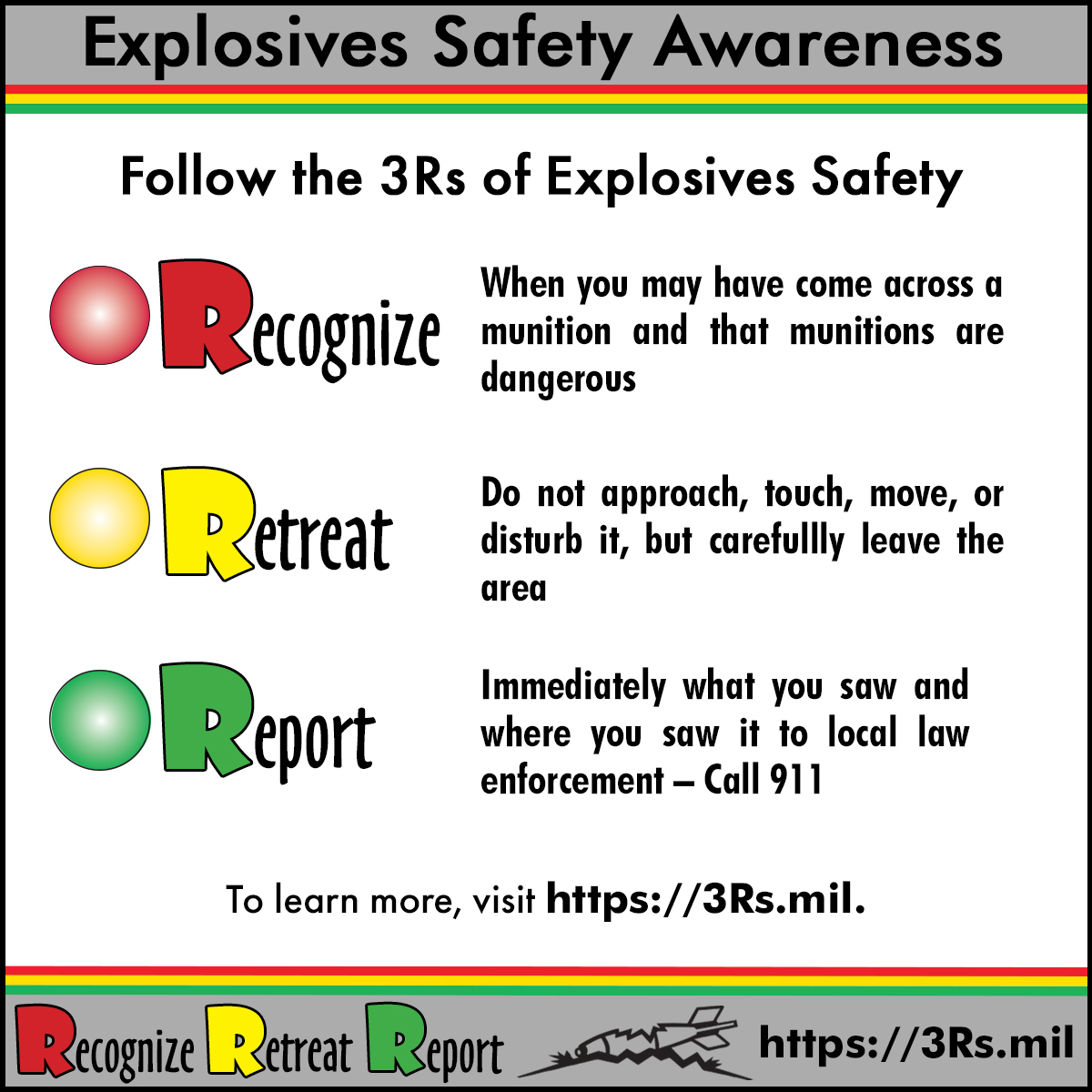 ---
To see a tutorial on how to register, obtain Fort Jackson permits, and check in/out Click Here
Click here for a .pdf version of the Vehicle Control Card
For non-emergency questions, the Fort Jackson iSportsman Team can be contacted by email at: usarmy.jackson.imcom-atlantic.mbx.isportsman@mail.mil
In case of emergency call 803-751-9111.
For questions related to accounts that have been placed on administrative or check-in hold, contact the Fort Jackson Conservation Law Enforcement Officers at 803-751-3113.